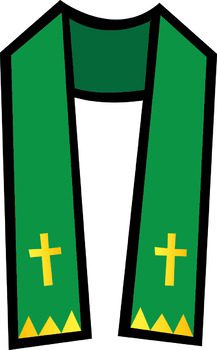 Christ clearly entrusted the mission of His Church to his Apostles, and they, in turn, chose those who would work with them. This apostolic ministry is now known as Holy Orders, which carries out the priestly ministry for the entire Church.
Men who are called to this ministry spend a great deal of time studying and praying about this life of service to the Church. There are three "degrees" to Holy Orders: deacon, priest, and bishop.
Some men are called to be permanent deacons. These men may be married. They receive extensive training through their diocese, and once ordained, serve the Church by assisting a pastor. Deacons are allowed to witness marriages, to baptize and to assist at Mass.
Those men called to the priesthood will be ordained "transitional deacons,"
generally about one year before being ordained to the priesthood. The final degree of Holy Orders is to the "episcopate" – the order of bishop. Bishops are called to this by the Holy Father himself.
We ask for your prayerful support as these men discern their vocations and serve our diocese.
Those men and women interested in Religious Vocations may contact the Office of Vocations at: https://www.miamiarch.org/CatholicDiocese.php?op=Vocations